| | | | | | | |
| --- | --- | --- | --- | --- | --- | --- |
| | High | Low | | | High | Low |
| EUR/USD | 1.1130 | 1.1071 | | USD/ZAR | 11.8316 | 11.7609 |
| GBP/USD | 1.5448 | 1.5401 | | GBP/ZAR | 18.25 | 18.15 |
| EUR/GBP | 0.7211 | 0.7187 | | USD/RUB | 51.53 | 50.82 |
| USD/JPY | 119.17 | 118.49 | | USD/NGN | 199.2 | 199.0 |
| GBP/CHF | 1.4530 | 1.4489 | | S&P 500 | 2,108 | 2,102 |
| USD/ILS | 3.8719 | 3.8518 | | Oil (Brent) | 65.86 | 65.35 |
| | | | | | | |
Yesterday's latest FOMC statement had something for everyone, they acknowledged the weakness in the growth data published earlier on in the afternoon (more on that later), but reiterated their intention to hike rates "when it has seen further improvement in the labor market and is reasonably confident that inflation will move back to its 2 percent objective over the medium term" What was particularly interesting to me was a subtle change in the statement. Here's an excerpt from the March statement:
"Consistent with its previous statement, the Committee judges that an increase in the target range for the federal funds rate remains unlikely at the April FOMC meeting."
If the much vaunted consistency of those same policy makers hasn't changed why would they eliminate that sentence from yesterday's statement? Obviously they would have had to replace 'April' with 'May', but you get my point. It implies to me that we are perilously close to a point where the Federal Reserve Board will require maximum flexibility to do what they have to do. They can no longer commit to saying there will be no rate hike next month… because there could be!
Unsurprisingly the US dollar strengthened. I've highlighted the timing of the FOMC announcement in the EUR/USD chart below. You can see, the drop indicating US dollar buying as the immediate reaction to the statement. But you can also see the subsequent recovery of EUR/USD which makes it clear that the bias remains to sell dollars in the European morning. Positioning, positioning, positioning! Too many people own dollars clearly.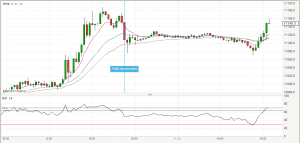 Today is the end of the month – I'm not telling you something you don't know – but as I mentioned yesterday we need to keep an eye on where GBP/USD closes this evening. Above 1.5430 will imply a much deeper dollar correction before any bigger picture trend in the greenback can reassert.
Just picking up from where I left it on the US GDP data… this was a very disappointing number – a quarter on quarter rise of +0.2%, when economists had forecast an increase of +1%! That's some shortfall, and it's made even worse when you look at the previous number of +2.2%. But I think policy makers were right to be cautious about reading too much into the data, last year's Q1 number was also weak, but Q2 and Q3 were absolutely stunning. If the same happens this year, interest rates in the United States will definitely be higher by the time Americans sit down for some Thanksgiving turkey.
I could try to convince you that other items of relevance have occurred since yesterday's blog, but I can't justify taking up more of your time this morning. Keep an eye out for where cable closes tonight. It could mean that May is another nasty month for the dollar bulls. Speaking to a macro trader yesterday, I got the distinct impression he would like to get back on that horse (or should I say bull), this is the danger facing everyone right now. If the consensus remains that we should be buying dollars, perhaps that outcome will not happen. Markets are contrary like that…
DISCLAIMER
Any financial promotion contained herein has been issued and approved by ParityFX Plc ("ParityFX"); a firm authorised and regulated by the Financial Conduct Authority ("FCA") as a Payment Services Institution with registration number 606416.  It is for informational purposes and is not an official confirmation of terms.  It is not guaranteed as to accuracy, nor is it a complete statement of the financial products or markets referred to.
Opinions expressed are subject to change without notice and may differ or be contrary to the opinions or recommendations of ParityFX. Unless stated specifically otherwise, this is not a recommendation, offer or solicitation to buy or sell and any prices or quotations contained herein are indicative only. To the extent permitted by law, ParityFX does not accept any liability arising from the use of this communication.
Follow our tweets @parityfxplc
Follow us on LinkedIn ParityFX Plc