| | | | | | | |
| --- | --- | --- | --- | --- | --- | --- |
| | High | Low | | | High | Low |
| EUR/USD | 1.1269 | 1.1174 | | USD/ZAR | 12.0090 | 11.9277 |
| GBP/USD | 1.5243 | 1.5165 | | GBP/ZAR | 18.25 | 18.16 |
| EUR/GBP | 0.7398 | 0.7366 | | USD/RUB | 50.76 | 49.56 |
| USD/JPY | 120.05 | 119.64 | | USD/NGN | 199.2 | 199.0 |
| GBP/CHF | 1.4087 | 1.4034 | | S&P 500 | 2,098 | 2,087 |
| USD/ILS | 3.8634 | 3.8501 | | Oil (Brent) | 68.69 | 67.44 |
| | | | | | | |
The see-saw in dollar price action continues with EUR/USD less than 50 pips away from last week's high, this despite fears of a negative outcome over the impasse in Greece. Creditors remain deadlocked with Greek government officials who are resisting demands for economic reforms before €7.2bn of bailout funds are released. But as I said to start with… the euro is in danger of making a new 2 month high?? This only happens when there are few marginal sellers of euros, or perhaps more accurately marginal buyers of dollars.
We have a huge week in front of us:
Continuing discussions between the Greeks and their creditors. There remains a significant risk of default, if not Grexit
British election tomorrow – which is significant because of the UK's relationship with the Eurozone and what type of a financial services sector will exist in London going forward
Key employment data in the United States on Friday. We have heard noises from senior policy makers in the US discouraging talk of rate rises this year, but another strong showing in the labour market, particularly if wage growth continues to accelerate will simply renew the talk of policy normalisation. Certainly the solid ISM numbers yesterday will go some way to renewing confidence that growth in the US remains robust!
Markets remain very choppy generally, which could be due to the time of the year, or more specifically about an excess position unwind which is ongoing. You only have to look at the chart for Bund yields below (courtesy of Bloomberg) to get an appreciation of the scale of position reduction at the moment. The big question remains will the preceding trends prevail after this period of correction?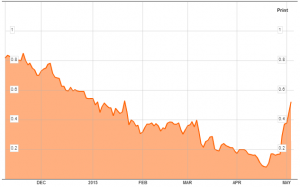 Not surprisingly European shares have been retreating from their post-QE record highs. One would imagine that the sheer scale of liquidity that will continue to pour out of the European Central Bank will halt this slide at some point, so this is probably just a case of 'buy the dips', but it's still not a fun experience while it's happening!
Tomorrow voters will take to their booths in Britain. With a very high probability of a minority government the most likely outcome. But everyone has been afraid of this for some time now. It really is not clear to me that the reality will be as damaging for pound sterling as some might fear. Indeed whatever the initial volatility surrounding any announcement, we might find those who have been selling GBP, give up in disgust if they don't get the spectacular moves their darkest fantasies have conjured. Let's be honest, we've seen this type of phenomenon before. I rather suspect that the market will be less concerned about which party forms the government, and more focused on the structure. But in any case the time for speculation is just about over.
The US trade balance has not been something I've paid much attention to for years, but I do recall decades ago when I started out in this business, it was such a big deal. I did however pay it a glance yesterday, as the trade deficit widened quite a bit. Dollar strength going into an electoral cycle in the United States might result in quite a bit of noise. What was interesting in the details is that exports remained stable, but import grew by 7.7%. This is clear a sign of growing consumer confidence in the United States, but also evidence that the stronger dollar is helping to make imports more attractive. Let's see what the Presidential candidates have to say about all this, and perhaps more importantly, what weight will Federal Reserve officials assign to this. I'll be keeping an eye on the unit labour cost data coming out of the US later on today, I'll tweet if it's interesting.
DISCLAIMER
Any financial promotion contained herein has been issued and approved by ParityFX Plc ("ParityFX"); a firm authorised and regulated by the Financial Conduct Authority ("FCA") as a Payment Services Institution with registration number 606416.  It is for informational purposes and is not an official confirmation of terms.  It is not guaranteed as to accuracy, nor is it a complete statement of the financial products or markets referred to.
Opinions expressed are subject to change without notice and may differ or be contrary to the opinions or recommendations of ParityFX. Unless stated specifically otherwise, this is not a recommendation, offer or solicitation to buy or sell and any prices or quotations contained herein are indicative only. To the extent permitted by law, ParityFX does not accept any liability arising from the use of this communication.
Follow our tweets @parityfxplc
Follow us on LinkedIn ParityFX Plc