| | | | | | | |
| --- | --- | --- | --- | --- | --- | --- |
| | High | Low | | | High | Low |
| EUR/USD | 1.1336 | 1.1271 | | USD/ZAR | 12.4828 | 12.3165 |
| GBP/USD | 1.5435 | 1.5368 | | GBP/ZAR | 19.20 | 19.00 |
| EUR/GBP | 0.7351 | 0.7318 | | USD/RUB | 56.03 | 54.66 |
| USD/JPY | 124.63 | 122.49 | | USD/ILS | 3.7761 | 3.7378 |
| GBP/CHF | 1.4350 | 1.4280 | | S&P 500 | 2,086 | 2,078 |
| GBP/AUD | 2.0131 | 1.9908 | | Oil (Brent) | 66.52 | 65.09 |
| | | | | | | |
The US dollar has been bashed around a bit in the last few days, moving from intra-day to low to intra-day high, but stepping back a little bit, the mini-trend has been dollar weakness. We, at ParityFX, remain dollar bulls, but we acknowledge that the path to dollar strength could be clearer. This morning the dollar has moved lower with EUR/USD and GBP/USD (cable) higher, and USD/JPY sharply lower. With respect to cable, we have just observed a move through a key level 1.5446 which tells us that we have not been (as assumed) in a minor corrective pattern (4th wave) anticipating another move lower, but it is entirely possible that the lows achieved on Friday saw the completion of a first wave down in a new cable downtrend. This is my preferred understanding for the moment, and as long as 1.5816 is not breached to the topside I will be monitoring the pair with this in mind. On this basis, the obvious question is where do we go from here? I view the current dollar weakening (cable bounce) as a correction with possible targets at 1.5490, or possibly 1.5670, and furthermore, it would seem unlikely that a new impulsive wave in the dollar bulltrend commences until at least the backend of next week. I expect between now and then to see further up and down periods, directionless if you will, as is typical of complex corrective scenarios. Time will tell.
I'm no strategist, as I'm sure readers have surmised, but it's always good to support technical views with fundamental data, or at least it's nice to have a narrative. In terms of new macro data, we've seen very strong machinery orders in Japan; very disappointing industrial production in France; surprisingly strong Swedish industrial production; stalling industrial production in Greece; and a stunning employment data point in the United States that confirms the strength and optimism in the US labour market, more opportunities and listings abound for workers in the US economy than at any time since December 2000. This is fantastic news, and it's the sort of thing that will end up encouraged the disenchanted back into the labour market.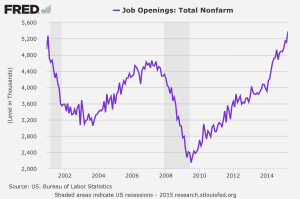 So with all that news, on balance good news I would say.. why the dollar weakness? Well… a better question to ask.. given the looming Greek crisis, is why the strong euro? I don't have answers, but the questions we're forced to ask are themselves revealing. I can tell you that the BoJ governor recently cast doubt on the likelihood of further yen weakness, so it's no great surprise that this has been the best performing of the major currencies. US legislators have called for the IMF to hold off including renmibi in their SDR basket in retaliation for recent alleged Chinese cyber attacks. The inclusion of the Chinese currency will be a further step towards the renmibi being legitimately considered a global reserve currency. Quite what this has to do with the US legislature escapes me, but there you go!
Markets have seen some extraordinary things this year, the revaluation of the Swiss Franc, the collapse in Bund yields to 5bps, and the fact that less than 2 months later they have just touched 100bps, I wouldn't class the price action in the last few weeks as particularly noteworthy. For my money, the greenback is still ascendant.
DISCLAIMER
Any financial promotion contained herein has been issued and approved by ParityFX Plc ("ParityFX"); a firm authorised and regulated by the Financial Conduct Authority ("FCA") as a Payment Services Institution with registration number 606416.  It is for informational purposes and is not an official confirmation of terms.  It is not guaranteed as to accuracy, nor is it a complete statement of the financial products or markets referred to.
Opinions expressed are subject to change without notice and may differ or be contrary to the opinions or recommendations of ParityFX. Unless stated specifically otherwise, this is not a recommendation, offer or solicitation to buy or sell and any prices or quotations contained herein are indicative only. To the extent permitted by law, ParityFX does not accept any liability arising from the use of this communication.
Follow our tweets @parityfxplc
Follow us on LinkedIn ParityFX Plc