| | | | | | | |
| --- | --- | --- | --- | --- | --- | --- |
| | High | Low | | | High | Low |
| EUR/USD | 1.0983 | 1.0885 | | USD/ZAR | 12.0288 | 11.9219 |
| GBP/USD | 1.5477 | 1.5402 | | GBP/ZAR | 18.54 | 18.43 |
| EUR/GBP | 0.7100 | 0.7064 | | USD/RUB | 50.65 | 49.64 |
| USD/JPY | 122.70 | 121.50 | | USD/NGN | 199.3 | 199.0 |
| GBP/CHF | 1.4667 | 1.4608 | | S&P 500 | 2,128 | 2,122 |
| USD/ILS | 3.8895 | 3.8633 | | Oil (Brent) | 66.10 | 65.26 |
| | | | | | | |
As I mentioned at the end of last week, 1.5446, the week's reaction low for GBP/USD, would be a key level that could confirm a renewed dollar rally. The breakdown occurred overnight with a decisive near 50 pip collapse of the currency pair which leaves it hovering close to 1.5400 now. This is by no means the only sign that something important is happening: EUR/USD is down 5% over the last 10 days; -4.5% for AUD/USD; and USD/JPY is up over 3% and is now at 7 year highs. What is interesting, so far, is the relatively gentle reaction of the minor currencies. That's not to say they're not weaker but these currencies are generally only 2% weaker over the same time period (MXN, ZAR et al). The US dollar is clearly strengthening against a broad basket, and it no surprise that the euro is the primary victim.
As I've already said, the greenback has been rallying for the last 10 days, but we are likely to hear competing narratives over the next few days about why. Prime candidates are the higher than expected US core inflation numbers and the Greek Interior Minister warning that Greece could default on its June IMF repayment. The US data was published at the end of last week, and the Greek minister's comments were disseminated over the weekend. I certainly don't disagree with these factors as possible triggers for further acceleration of a move that was already in place, in fact I'm convinced of it. Certainly the US inflation numbers were new information, I'm a bit more sceptical about how significant the Greek news is, after all let's face it, every day we hear something which implies that we're that much closer to Greek default and Grexit. What I do find interesting is that US equity markets finally broke out to new highs in recent days, and the bond market selloff has stalled. This matches the paradigm we observed during the US dollar rally that ended in mid- March – strong dollar, rallying equities, and rallying bonds. Whether the same paradigm will underpin a new dollar rally is anyone's guess, but that has certainly been the case in recent days. All we can do is observe asset prices and identify any variance from our recent past. For now, the correction in the prior trend lasted about as short a time as I had stated was necessary given the 11 month bullish trend that had been in place. I should also add that we have seen a very similar pattern in the distant past, certainly events are unfolding which are not that different to the pause in the great US dollar rally in the early 80s. I've attached a long term chart of the DXY, the US dollar index below. Look at the dollar rally in the 1980s. I've circled the correction which occurred after the first impulsive rally, compare that to what has recently occurred and you get a sense of how insignificant what we have recently experienced is. But there is still a similarity, albeit not of the same order of magnitude. The key takeaway I want you to bear in mind is that there could be much much further to go than what we've experienced so far, and over a substantial period of time to come as well. Please bear that in mind.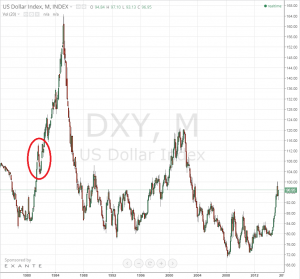 While many will continue to focus on Greece within the Eurozone, I would argue that there are potentially larger concerns that loom over the horizon. But first, consider that Greek Interior Minister comment. Nikos Voutsis, has stated on Greek television that the concessions required of Greece by its creditors are "unacceptable" and that "the money won't be given". We'll see… we heard it all before, and we shouldn't be that surprised. Syriza is new to governing, and we should put the comments of its leaders in context. We should also recognise that this is the Interior Minister, not the Prime Minister or the Finance Minister. Please note that Mr Tsipras, the Prime Minister, had declared that Greece would miss the €750m IMF repayment in May, but lo and behold, they managed to get it together. If the big boy cried wolf and no wolf came, should we listen to the smaller boy? I'm not so sure, but to me there is one heck of a credibility gap.
The threats on the horizon in the Eurozone that loom larger than Greece, are based on the Greek template. Look west to Spain, and we have a party, Podemos which is not dissimilar to Syriza. And we also have Ciudadanos, a Catalonian party of all things, but with national appeal. The old two party system appears broken (based on recent local election results), and while a Syriza style win appears unlikely, Spain very probably will be forced to establish a new relationship with Europe after the 20th December elections. We have seen Greece, we have seen Britain (with the referendum to come), and now we have a country that is much closer to the Eurozone core, likely to push for change. As we get closer to the Spanish elections, the fear of what is to come will have an impact on financial markets, uncertainty is the enemy of asset price appreciation, this could be the real danger for the euro in coming months. Beware…
DISCLAIMER
Any financial promotion contained herein has been issued and approved by ParityFX Plc ("ParityFX"); a firm authorised and regulated by the Financial Conduct Authority ("FCA") as a Payment Services Institution with registration number 606416.  It is for informational purposes and is not an official confirmation of terms.  It is not guaranteed as to accuracy, nor is it a complete statement of the financial products or markets referred to.
Opinions expressed are subject to change without notice and may differ or be contrary to the opinions or recommendations of ParityFX. Unless stated specifically otherwise, this is not a recommendation, offer or solicitation to buy or sell and any prices or quotations contained herein are indicative only. To the extent permitted by law, ParityFX does not accept any liability arising from the use of this communication.
Follow our tweets @parityfxplc
Follow us on LinkedIn ParityFX Plc