| | | | | | | |
| --- | --- | --- | --- | --- | --- | --- |
| | High | Low | | | High | Low |
| EUR/USD | 1.1219 | 1.1192 | | USD/ZAR | 11.5588 | 11.4938 |
| GBP/USD | 1.5449 | 1.5404 | | GBP/ZAR | 17.85 | 17.72 |
| EUR/GBP | 0.7271 | 0.7256 | | USD/RUB | 61.81 | 60.73 |
| USD/JPY | 119.43 | 119.11 | | USD/NGN | 202.6 | 201.5 |
| GBP/CHF | 1.4716 | 1.4631 | | S&P 500 | 2,113 | 2,107 |
| USD/ILS | 3.9760 | 3.9418 | | Oil (Brent) | 61.56 | 60.03 |
| | | | | | | |
I posed the question in the last blog about what the driver would be when the bearish EUR/USD trend re-asserted itself a weak euro or stronger dollar? Now I'm not saying the bear trend is back in force yet, but yesterday we saw strong US goods data driving the currency pair lower. Clearly a stronger US dollar was in play. For the record, data for January saw a 0.6% month on month increase in goods orders versus a fall of 0.7% previously, with economists forecasting a 0.3% increase. Those are decent numbers. The accumulation of solid US economic data may yet force the market to re-price the risks of earlier than expected Federal Reserve hikes after all. The story is well documented, the global fear of deflation due to weak aggregate demand and falling energy prices, but the US Federal Reserve correctly views lower energy prices as transitory, the risk as they see it is accelerating wage inflation due to tightening labour markets.
Some of our readers might wonder why I have continued to remain sceptical about whether the bearish trend of the EUR/USD currency pair has started again… despite the fact we are close to the recent lows. As an Elliott Wave technician I monitor the wave patterns in markets, and while I remain open to the possibility that the downtrend is again dominating price action, I am also very aware that a well know pattern might be developing. I've taken the liberty of attaching the chart from yesterday (which is still very relevant). I made the point to a friend, and superb currency trader, that there was a possibility that EUR/USD could move lower to 1.1186, before surging higher one last time, after which we should expect to see significantly lower lows. Today we have reached a low 1.1192. I'm not saying my speculation is correct, but it certainly is yet to be invalidated. That would take a move down below about 1.1050 which is quite some distance away. I therefore reserve the right to my scepticism for now!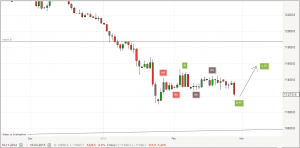 Today we will see lots of Eurozone country inflation and GDP growth data, as well as important sentiment, consumer spending data and GDP in the United States. We will certainly get an updated picture of global macroeconomics when the day is done. Already I have observed solid consumer spending data in France, far better than expected, and even more impressive retail sales data in Sweden. Who knows, it might be a good news day. The wall of money is certainly finding its way into stocks at the moment, and I don't see much stopping this paradigm in the next few months. It's not all sweetness and light though, Japan appears to be slipping back towards deflation, as slowing core inflation looks like undermining the credibility of the extraordinary policies being implemented by an Abe inspired Bank of Japan.
It looks like my EUR/GBP target has effectively been achieved. Some months ago I suggested 0.7255 was the immediate next target for the currency pair, and we have seen a 0.7257 low so far today. This doesn't mean I believe that we'll see a recovery from here, far from it, but I did expect to see EUR/GBP get down here, there isn't much in the trend to suggest it stops here, although there are disturbing (and in my view sterling negative) things to ponder. Labour looks to be edging ahead of the Conservatives in the polls with Ed Milliband being given a 74% chance of becoming prime minister…. Hmmmm! Furthermore a think tank has calculated a 1 in 6 chance of 'Brexit', a UK exit from the European Union. Neither of those scenarios bodes well for the pound sterling in my view!
DISCLAIMER
Any financial promotion contained herein has been issued and approved by ParityFX Plc ("ParityFX"); a firm authorised and regulated by the Financial Conduct Authority ("FCA") as a Payment Services Institution with registration number 606416.  It is for informational purposes and is not an official confirmation of terms.  It is not guaranteed as to accuracy, nor is it a complete statement of the financial products or markets referred to.
Opinions expressed are subject to change without notice and may differ or be contrary to the opinions or recommendations of ParityFX. Unless stated specifically otherwise, this is not a recommendation, offer or solicitation to buy or sell and any prices or quotations contained herein are indicative only. To the extent permitted by law, ParityFX does not accept any liability arising from the use of this communication.
Follow our tweets @parityfxplc