| | | | | | | |
| --- | --- | --- | --- | --- | --- | --- |
| | High | Low | | | High | Low |
| EUR/USD | 1.1269 | 1.1189 | | USD/ZAR | 12.4590 | 12.3524 |
| GBP/USD | 1.5570 | 1.5523 | | GBP/ZAR | 19.42 | 19.19 |
| EUR/GBP | 0.7244 | 0.7203 | | USD/RUB | 56.67 | 54.37 |
| USD/JPY | 123.57 | 123.12 | | USD/ILS | 3.8676 | 3.8196 |
| GBP/CHF | 1.4517 | 1.4411 | | S&P 500 | 2,095 | 2,080 |
| GBP/AUD | 2.0172 | 2.0038 | | Oil (Brent) | 64.73 | 64.14 |
| | | | | | | |
Fears of Greek default are in the air (isn't it always these days?), but I find myself struggling to mobilise the appropriate level of concern. This whole thing has been exhausting, and to outside observers it would be boring if the consequences weren't potentially so dire. On the other hand, the fact that the troika seems so uncompromising suggests that the risk of contagion has been all but eliminated. Certainly the probability of capital controls in Greece is as high as it's ever been. It seems that the weekend talks weren't fruitful, with a rumoured €2bn per year gap separating Greek officials and representatives of the troika. The Greek government looks to have created a red line against further pension cuts and hikes in V.A.T. While there is no argument in terms of the financial debate, it's tough for me, sitting thousands of miles away, to comment on the morality of the situation. I will, however, observe that if more wealthy Greeks paid their due taxes, both current and historic this might be less of a problem!
But what has this done to EUR/USD? As you can see from the chart below… not much. It almost feels as if the currency pair has detached itself entirely from these critical negotiations. Greece doesn't matter anymore! Even Merkel's comments at the end of last week only had a limited impact (recall her warning that a strong euro makes economic reforms more difficult). Clearly EUR/USD remains in a corrective complex of some sort. I have had occasion to question if the move lower – in mid-May –  where I suggested the dollar bull trend had re-started wasn't in fact just a component of the complex which began after the mid-March lows. For now my working hypothesis, is that the dollar bull trend has indeed recommenced, and as long as we don't go above 1.1467, I will happily maintain that stance.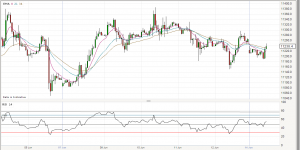 On Friday, we saw strong Michigan sentiment data which also failed to provide much of a boost to the US dollar, I can only speculate that the slightly softer 5yr inflation expectations (a part of the same Michigan survey) was responsible for the sluggish price action. Later on today we'll see the Empire State manufacturing data, I'm intrigued to see if: (1) the data is strong; (2) the impact of strong data on the US dollar. It might be the case that the price action will be subdued because we are all waiting for the outcome of the FOMC meeting on Wednesday. The Federal Reserve meeting has to be the single most important macro event this week, short of a surprise announcement of Greek capital controls anyway!
For now the US dollar appears relatively subdued, and range-bound against major rivals, although there are signs of strength against more risky currencies. I suspect the impact of the bond market sell-off is the primary culprit there. We continue to maintain that at this point, any significant currency moves should be in favour of the US dollar
DISCLAIMER
Any financial promotion contained herein has been issued and approved by ParityFX Plc ("ParityFX"); a firm authorised and regulated by the Financial Conduct Authority ("FCA") as a Payment Services Institution with registration number 606416.  It is for informational purposes and is not an official confirmation of terms.  It is not guaranteed as to accuracy, nor is it a complete statement of the financial products or markets referred to.
Opinions expressed are subject to change without notice and may differ or be contrary to the opinions or recommendations of ParityFX. Unless stated specifically otherwise, this is not a recommendation, offer or solicitation to buy or sell and any prices or quotations contained herein are indicative only. To the extent permitted by law, ParityFX does not accept any liability arising from the use of this communication.
Follow our tweets @parityfxplc
Follow us on LinkedIn ParityFX Plc