| | | | | | | |
| --- | --- | --- | --- | --- | --- | --- |
| | High | Low | | | High | Low |
| EUR/USD | 1.1279 | 1.1181 | | USD/ZAR | 12.0780 | 12.0103 |
| GBP/USD | 1.5524 | 1.5241 | | GBP/ZAR | 18.72 | 18.32 |
| EUR/GBP | 0.7394 | 0.7225 | | USD/RUB | 51.29 | 49.22 |
| USD/JPY | 120.02 | 119.57 | | USD/NGN | 199.2 | 199.0 |
| GBP/CHF | 1.4334 | 1.4041 | | S&P 500 | 2,094 | 2,087 |
| USD/ILS | 3.8976 | 3.8446 | | Oil (Brent) | 65.77 | 65.06 |
| | | | | | | |
Did you see this coming? I didn't! But hindsight as they say makes geniuses of all of us. The Conservative party look on course to win a slight majority in the British parliament when all is said and done, which means that we won't have weeks of back door negotiations, ergo no period of uncertainty to look forward to. The British pounds is reacting as one would expect and has surged over the last 12 hours, it is up 1.5% versus the US dollar and up 2.1% versus the euro. My feeling is that the fear trade is primarily responsible for this, traders covered shorts that had anticipated a hung parliament and a Labour coalition. As the exit polls started coming in these positions were vaporised, fear of loss is always a greater motivator than greed. My reference to hindsight is what has become obvious in this election… the SNP were always going to perform strongly in Scotland and the Labour party was the obvious victim there. In England the Liberal Democrats were always likely to suffer their status as the junior coalition member. After all, why vote for them… either you agree with the achievements of the coalition government and you credit the Conservatives (the last few weeks the Lib Dems have done everything they could to distance themselves for their senior partners, a colossal tactical error in my view), or you would go for the Labour party if you were intent on repudiating the previous government. There was no reason to vote Liberal Democrat, and that's how things turned out. Once these strategies are considered, it's really no surprise that the Conservatives have outperformed and both the Labour party and Liberal Democrats have been big losers. I fear there are consequences to this election that will alter British politics for good or ill. Consider this… UKIP has a greater share of the vote than the SNP by a substantial margin, but they will end up with one seat in all likelihood while the SNP canter away with over fifty. This is simply untenable electoral maths in an advanced democracy and something will need to be done about it. I can't see first past the post surviving. How ironic that an undreamt of Tory majority and the end of the first coalition government in decades will virtually guarantee that there will ALWAYS be coalition governments going forward. I say this because a move to proportional representation virtually guarantees that no party will ever have a popular mandate in that system.
Moving on.. perhaps as important today will be the non-farm payrolls employment report which is published in the early European afternoon in the United States. Economists are forecasting 224,000 job gains versus the prior months disappointing 126,000 reading. I am keen to see a number of things:
Revisions to prior month's data? Was that 126,000 data point a poor initial estimate?
What happens to the unemployment rate? It is currently at 5.5%, the closer we edge towards 5% the more pressure there will be on the Federal Reserve as that would mean we will be effectively at full employment with interest rates at 0%. Surely a reckless state of affairs
What happens to Average Hourly Earnings? If we get a number in excess of the +0.2% growth forecast this will be another sign of a tightening labour market. The US central bank simply cannot afford to be seen as behind the curve
In China, further signs of economic slowdown are evident in the trade numbers published earlier this morning. Exports were down over 6% highlight tepid demand in the rest of the world, but more interestingly imports were down over 16%, which speaks volumes about the Chinese economy. More stimulus anyone? Growth is at its weakest since the global financial crisis, we all need to hope that the Chinese government can negotiate successfully between maintaining a decent level of growth and achieving an effective rebalancing of the Chinese economy from export driven growth.
The euro is up 7% versus the US dollar since the March lows, roughly when Syriza came to power in Greece, and here we are, close to a defining moment, and the omens look shaky. Greece needs €7.2bn of funds released by creditors if the government is to avoid defaulting on its debts. Negotiations are at a critical stage with not enough signs that agreement is likely to be reached in time. But the euro remains close to recent highs. However, and I'm irritated that I neglected to send this out to our readership, I did have a conversation with an ex-colleague who manages his own hedge fund about the likely path for EUR/USD. I include the chart at the time (6th of May) and my views.
EUR/USD… are we starting wave (v) of C? Once done perhaps the downtrend can start again…
Upside targets are:
1.1392 if wave v = wave i
1.1543 if wave v = 61.8% of waves (i) & (iii)
I could be wrong of course. An alternative count, assuming I'm correct in looking at this as a 'C' wave, could be even worse. In that one, we're actually only at wave (v) of iii of C. With an eventual end of wave 'C' targeting closer to 1.19. Time-wise that one might be a better fit, because it implies 0.382 x length of time in the original dollar bull trend which was about 11 months…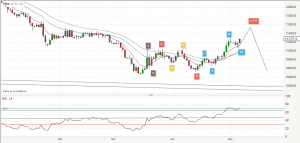 A ringing endorsement of Elliott Wave theory. The reason I mention this, is that the first target I speculated about has been hit. It is entirely possible that the dollar correction is over. It is too early to confirm this, but we have done the minimum required for a correction. I would describe my view as neutral to biased towards a resumption of the US dollar trend at this point. For those who have dollars to buy, this might be as good as it gets.
DISCLAIMER
Any financial promotion contained herein has been issued and approved by ParityFX Plc ("ParityFX"); a firm authorised and regulated by the Financial Conduct Authority ("FCA") as a Payment Services Institution with registration number 606416.  It is for informational purposes and is not an official confirmation of terms.  It is not guaranteed as to accuracy, nor is it a complete statement of the financial products or markets referred to.
Opinions expressed are subject to change without notice and may differ or be contrary to the opinions or recommendations of ParityFX. Unless stated specifically otherwise, this is not a recommendation, offer or solicitation to buy or sell and any prices or quotations contained herein are indicative only. To the extent permitted by law, ParityFX does not accept any liability arising from the use of this communication.
Follow our tweets @parityfxplc
Follow us on LinkedIn ParityFX Plc